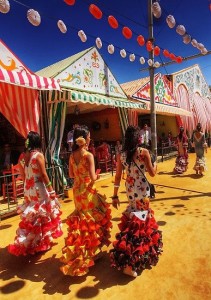 If Granada is a retired party girl, Seville's a blousy reveller in the full throes of the banquet and she's giving you everything she's got. It's an overwhelmingly feminine city, unlike London which is definitely a bloke, driven with purpose and not much cop on the dance floor.
I arrive on the first night of La Feria de Abril, the boldest, brightest and horsiest of all Andalucian festivals and I wonder who's turned up the volume and the light.  Everywhere it's like a Franco era postcard, mad with roses, combs, tassels, frills and fans.  There are long-legged elegant men driving carriages full of giggling teenage girls and proud matriarchs sashaying knowingly down the street looking for the carnival's beating heart.
La Feria is probably what joy looks like.  Festooned with orange and white lanterns, it's located on the far bank of the Guadalquivir River.  The fair is made up of row upon row of casetas, colourful temporary structures that are hosted by private families for wining, dining and carousing.  Some casetas are absolutely rocking whilst others look frankly dull, with elderly men picking bits of dried paella off a plate and stating into the middle distance.   Where can a girl go to get a glass of fino in this place?  I was told there were public casetas but I can't seem to tell the difference.  I am an observer here and something of an interloper in this most Spanish of holidays, but everything is such a riot of colour I can't take my camera off it.
It is now thirty degrees and rising and the smell of horse dung hangs in the air.  One of my ancestors died breaking in a race horse, so I have always been slightly nervous of equine hooves, problematic with senoritas galore riding side saddle across gleaming flanks and everywhere an opportunity to be ploughed over by a carriage.  I decide to get away from the madness and take a stroll down to the bullring where I discover things are also mad.
La Feria kick starts the beginning of the season and, although blood sports are loathsome to me, bullfighting is integral to Andalucian culture and I'm curious.   When I get to the ring I see a crane high above my head and at the end of it is a man with a TV camera.  Even from the outside the whole place bristles and the atmosphere is tauter than a matador's buttock as they await the start of the fight.  As a spectator you have two choices, sol y sombra.  As the bull your two choices are win or die, with the odds firmly stacked towards the latter.  I remind myself that this is an all or nothing city.  Then a man with a thick moustache explains to me in broken English that its 70 euros to sit in the cheap seats.   I am appalled and turn on my heel.  I wouldn't pay that to see Maggie Smith in the West End.
I'm permanently lost here.  I have no sense of direction and have never been able to read a map so I do everything by sight.  Trying to get to the Plaza de Espana, I pass through a park and encounter  several groups of boys in blue blazers politely sipping beer from plastic cups.  Sevillian hoodies are such stylish bastards.  I, on the other hand, have never looked more of a tourist.  Wanting to be handbag free, I've an overloaded bum bag that makes me look like I'm entering the third trimester.  I've bought a cheap trilby to keep the sun off my face which I'm starting to realise is Seville's equivalent of a Kiss Me Quick hat. Who cares?  I am an Iberian flaneur and there is always cold sherry and tapas.  The Andalucians are not big on their five a day here and every vegetable I eat is deep fried and smothered in honey.   We teeter on the edge of Africa so the cuisine is spicier than inland but oddly, apart from the occasional seller of trinkets, there are hardly any black people to be seen.
My apartment is in the centre of town.  It's immaculate with a private terrace and a view of La Giralda, the bell tower of Seville's epic cathedral.  My hostess is Italian so everything is geared towards style rather than comfort – no carpets, no cushions and a purgatorial bed that's as hard as an ironing board and impossible to sleep in.  She's kind and thoughtful, but rather over-zealous in her communications, probably not realising that my idea of a holiday is getting a good night's kip and not having to deal with other people.   I have cleverly managed to swerve British tourists since I've been here.  On the third evening I find El Rinconcillo, the oldest bar in Seville where they have been carving deliciously thin slices of cured ham off the bone since 1670.  The waiter grabs an entire leg complete with cloven hoof and expertly carves me up a plate.  Next to me, a northern voice says 'Look at that Barbara.  If that were England health and safety would be doing its NUT'.   I order another glass of Rioja and the waiter chalks up my bill on the counter.   Please someone send me some flamenco and get me away from this mediocrity.
I first started getting into the idea of flamenco in Granada when I saw it performed in the squares.  If you are ever in Seville and want to go to the Flamenco Museum, don't.  I went in, looked at every exhibit and watched every piece of film and still learned absolutely nothing about flamenco.   It does however have an excellent shop where I purchased a book called Duende, the heightened emotional state that results from watching great art.  It's the true story of an Oxford graduate who runs away to Spain to immerse himself in flamenco culture by living with gypsies and learning the guitar.  En route to full enlightenment he has a torrid affair with the wife of an Alicante gangster, falls in with a bad lot in Madrid and spends his evenings snorting cocaine off the bonnets of stolen BMWs.  It's not your average gap yah, but it does tell you a lot about where flamenco hails from and that it is primarily about being an outsider.
Bizet didn't set Carmen here for nothing.   It doesn't have the dark, primitive heart of Granada and its streets are bewildering to navigate, but when you step out in the evening and the sky is crazy with swallows and everything has such abundance and promise, you can't help but admire Seville's blatant audacity.
Talking of audacity, I arrive at the airport and Ryan Air fines me 70 euros for not checking in online.  Heading into the bar for a consoling beer, I am greeted by the ruddy face of Phil Mitchell in a black cowboy hat talking to 'a mystery brunette'.   Something tells me the poetry has come to an end……